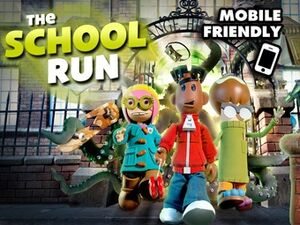 The School Run is a fun, playable game that you can play on the ABC3 Website. It is very similar to the popular iPhone game, Temple Run.
In Game Summary
Edit
You're a student at Strange Hill High and you're being chased through school by a monster. Collect lollies and make sure you run faster than it does!
Playable Characters
Edit
Mitchell Tanner-He throws balls at whatever gets in the way.
Becky-She blows bubbles at whatever gets in her way.
Templeton-He uses his ruler to attack whatever is his way.